Talks
Annotating Designs for Accessibility
A core aspect of accessibility comes down to our designs, from the patterns we create to what we work with developers to build. What we include in our designs and prototypes can communicate many core aspects of accessible design, but some pieces get lost. When designs and prototypes alone are not enough, we can use accessibility annotations. In this workshop, attendees learn what gaps that accessibility annotation can fill and when and how to use them.
Anna E. Cook
Anna E. Cook is a Senior Designer that specializes in building inclusive products. With ten years of experience, she is dedicated to creating scalable systems to support accessible practices across digital product teams. Anna is a Senior Designer at Microsoft and an M.S. student in Creative Technology & Design at the ATLAS Institute of CU-Boulder.
Setting accessibility specialists up for success in organizations
Accessibility specialists, as well as designers, developers, and testers who want to center accessibility in their work, can often feel overwhelmed and unsupported. We're frequently asked to be responsible for organization-wide change management, project and program management, evangelism, road maps, training, testing, and mentorship. We often risk burnout and failure in systems that are not actually designed to help us succeed. In this talk, I'll explore some of the ways that we're let down, and ways we can center caring for ourselves to keep doing the work.
Devon Persing
Devon is an accessibility specialist who's been in the field for about ten years after a short career as a librarian.
Devon's experience is primarily with accessibility consulting agencies and large tech organizations. She is most interested in solving problems to make accessibility work more sustainable for everyone involved, focusing on usability over compliance.
Devon enjoys gardening, writing, playing or running Dungeons & Dragons games, petting a cat, or playing video games; and identifies as a disabled person with a history of chronic illness.
Focus People, Focus! Focusing on Focus States for Designers.
Focus, people. We need to focus. On focus states that is. The top accessibility issue identified in our design evaluation service is the lack of a designed focus state for individual components. Sure, sometimes people think about a hover state, but that's for mouse users. What about keyboard users? How are they supposed to know where they are on page without a properly designed focus state? In this talk we will discuss the importance of well-designed focus states, and we will explore the accessibility requirements of focus states for some common components.
Karen Hawkins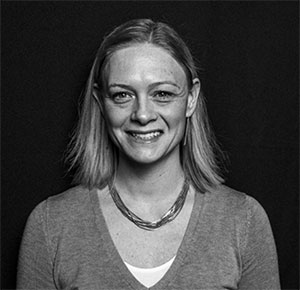 Karen Hawkins is the Head of Accessible User Experience Design at eSSENTIAL Accessibility. She holds an honours Industrial Engineering degree, having specialized in Human Factors, and she is a certified accessibility professional (CPACC).
Karen has a decade of experience as a user experience designer and director leading and mentoring multidisciplinary teams in creating world-class user experiences and determining complex omnichannel digital solutions for leading global companies. She applies accessibility design thinking to all of her work, and she trains both colleagues and clients to do so as well.
A Web of Anxiety: developments in accessibility for people with anxiety and panic disorders
Awareness of the impact of online accessibility for people with anxiety and panic disorders has grown in recent years. High-pressure sales tactics and deceptive patterns have caught the attention of lawmakers. Banks have introduced new measures to support vulnerable customers. Social media companies have recognized the impact of their services on users' mental health. But has this made any difference?
In this talk, David will provide an update on developments in understanding this often-overlooked aspect of web accessibility. He'll explore aspects of user interface and user experience design that contribute to feelings of anxiety and panic. He'll also examine whether the web is still as anxiety-inducing as ever, highlight recent initiatives aimed at addressing anxiety-related issues, and share recommendations on what organizations can do to improve the user experience for people with anxiety and panic disorders.
David Swallow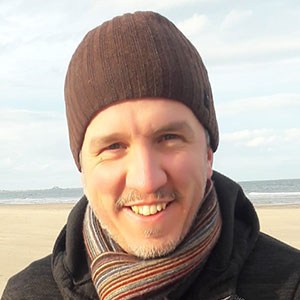 David Swallow is Principal UX Consultant at TPGi responsible for delivering the highest quality UX and strategy services to clients. Formerly he was an academic researcher in human-computer interaction at the University of York, UK. There he gained a PhD in Computer Science, investigating how to integrate accessible web development practices into the existing workflows of professional web developers. Prior to that, David was a web developer, creating usable and accessible websites for property professionals.
Continuous Accessibility
How can we make continuous accessibility a reality? In this talk, you'll learn a strategic approach for how to implement continuous accessibility, as well as the work still needed to make this a complete reality.
Melanie Sumner
Melanie is a decorated, disabled military veteran who works as a Senior Design Systems Engineer at HashiCorp. She is an invited expert for W3C's WAI-ARIA working group and co-editor of the ACCNAME specification, a member of the Ember.js core team, and a board member for VetsWhoCode.
Designing for accessibility, equity and fun in kids digital content
When you think about designing digital content for kids, the first words that come to mind are wow, colour, and fun. But there's more to consider when it comes to creating engaging content that is accessible and equitable for all kids.
Olena Sullivan
Olena is a digital producer on the CBC Kids and CBC Kids Olympics websites with a focus on accessibility. A graphic designer by training, she coded her first site in 1997 and has continued to work in digital media ever since.
She has produced children's content for four Olympics, the PanAm Games, and the CBC Kids grade school site. She aims to apply accessibility best practices to kids' digital products and content.
How to Engage Accessibility Champions
Imagine you've identified a group of accessibility champions in your organization and they are ready to get going. How do you engage them consistently and scale your champions network? Welcome to the hard part! Today's talk will go over different models that organizations have used to build up and create a sustainable champions network. We'll cover the structure of champions networks, common challenges and tactics to keep individuals engaged.
Niki Ramesh
Niki leads digital accessibility for Canada's public broadcaster, CBC. She and her team are passionate about providing equal digital media experiences for everyone living in Canada. She enjoys working with research and product development teams to experiment with accessibility features and embed accessibility into the development process. She's also a proud member of Access to Success, supporting MBA students with disabilities and accessibility startups in North America.
Accessibility in Action: Indigenous Communities
We know accessibility is good for all but what happens when accessibility principles don't work for all Indigenous communities? In this talk, Meggan will explore how cultural considerations and Indigenous perspectives encourage increased uptake of accessibility principles and how you can apply accessibility standards in a meaningful way for an Indigenous audience. Meggan will share her agency experience and how Design de Plume has created accessible Indigenous projects that are engaging and relatable for Indigenous audiences.
Meggan Van Harten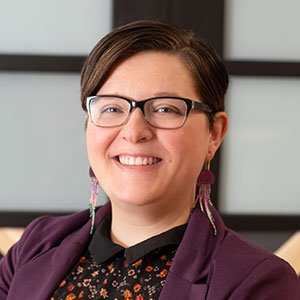 Meggan is a big-picture thinker and ensures operational success by being committed to long-term strategic planning. She's committed to accessibility in all sectors and actively promotes diversity by teaching inclusive design through mentoring and the education of clients and students alike.
Not only is she a skilled designer and illustrator, Meggan's background as a project manager also helps her choose the most appropriate technical practices to create beautiful projects, breathing life into DDP's client's projects.
Meggan volunteers with several organizations to help share insight and expertise.
Registered Graphic Designers (RGD) mentor
Advisor to the Cambrian College graphic design program
Former President of the Sudbury Design Society
Meggan is trained in the ins and outs of accessibility and enjoys hosting workshops or sessions on how to follow standards like WCAG, AODA, and ADA. As well as challenging the existing compliance frameworks and how they can become more inclusive.
You Can't Teach Giving a Sh*t
Bootcamp grads are being suckered into handing over their money with the promise of a new career in web development, but there's one detail missing from the curriculum: Web Accessibility.
Jonny James
Jonny James was born and raised in Guelph. Growing up, Jonny loved taking things apart. He wasn't so good at putting things back together though. Does this sound like the perfect background to work in Web Accessibility? If you're asking, 'what does it take to become a Web Accessibility Professional?', come to his talk to find out! It's probably not what you think. Jonny works as a Principal Accessibility Engineer at TPGi, where he still takes things apart, and sometimes, finds himself putting things back together again, but each time, more accessible than before.
An inclusive design workflow for teams
People expect websites and apps to be fast, to "just work" on their device, and to keep their sensitive data secure. But what about accessibility? Yes, people expect accessible user experiences, too. As a product team, how do we go about providing this?
In this talk, Scott Vinkle will share his experience while working with Shopify's Flagship Themes team. Scott will explain how he implemented a new team-wide workflow which included accessibility in each aspect of the product creation lifecycle. This resulted in the team shipping highly accessible themes by default.
Scott Vinkle
Scott is an accessibility specialist at Shopify. He spends his days auditing digital experiences for accessibility and discussing inclusive design principles with team leads, designers, developers, content strategists, partners, and legal teams. In his spare time, Scott runs an online store and writes about web accessibility at ScottVinkle.me. He enjoys snowboarding in the winter, mountain biking in the summer, and spending time with his wife and two children.
Under-Engineered Patterns
Sometimes a developer will reach for a library or framework for the most basic kinds of controls, such as form fields. Reasons vary from design flexibility to less time spent coding that one instance. But the impact can be significant for page weight, accessibility, and maintenance. Instead, I will walk through some of what HTML offers already and show how you can still satisfy design and code requirements without the potential side effects.
Adrian Roselli
Adrian has been a member of the W3C Web Platform Working Group, W3C Accessible Rich Internet Applications Working Group, and W3C Accessibility Task Force. He has written articles for trade journals, web sites, and participated as an author and editor on five web-related books. Back in 1998 he co-founded a software development consulting firm before leaving at the start of 2016 to start all over. Some may recognize Adrian from his days helping to run evolt.org, one of the first communities for web developers. Adrian has been developing for the Web since 1993.
Learning from cognitive and motor a11y research
When we think about accessibility, we often think about building for users who are blind or low vision. While this work is incredibly important, it's not all there is to it– it's important to consider a multitude of disabilities in product development. In this talk, Jen will focus on user research with individuals with motor disabilities and cognitive differences. You'll learn tips for effective research in these areas!
Jennifer Payne
Jen is a user researcher focused on accessibility. She has a background in human-computer interaction, and has worked in government and the private sector, thinking about the accessibility of websites, apps and operating systems. Outside of work, Jen volunteers with StopGap Ottawa and the CNIB. In her spare time, she's (slowly) learning ASL.
What We're Here For
If you're coming to #a11yTO, you care about accessibility. It's time to ask what, apart from standards and legal compliance, is required of us to actually make systems that work better not only for disabled people, but connects disability rights with the pantheon of civil rights and social justice movements. This session will put accessibility and inclusive design in the broader context of disability rights, civil rights, equity and justice, and suggests what we as advocates should be advocating for in our own roles and processes.
Matt May
Matt May is Principal Designer on Adobe's Product Equity team. His work includes integrating more equitable research and design practices across every aspect of the Adobe product lifecycle, training and mentoring the Adobe Design team, and advocating principles of accessibility, inclusive design and equity to the public at large.
Accessibility Research as a Space for Tech Innovation
A growing number of companies recognize user research as an essential part of product development. However, there is still a lack of acknowledgement that research in accessibility provides an opportunity to go beyond basic compliance and venture into the innovation space. At this talk, I will discuss the value of conducting accessibility research and its possible effects on future user experiences.
Anna Tendera
Anna is an accessibility researcher at Microsoft with 8+ years of hands-on research experience in usability and feasibility in the area of accessibility.
During her research career, Anna has been trained as a professional researcher in several complementary and yet unique disciplines: first, in experimental psychology, sociology and pedagogy, and later, in neuro-rehabilitation sciences. Before joining Microsoft, she worked at Bloorview Research Institute, Max Planck Institute, the Universities of Alberta and Illinois and collaborated with a number of industry partners.
Anna is passionate about reimagining the way people interact with technology to increase their participation, become more productive and improve their overall quality of life.
No Coding Required: Writing Tips for Accessible Content
When it comes to accessibility, development teams often think of a writer's input as a "nice to have", rather than a necessity. Even WCAG provides lots of guidance for developers and designers, but very little for content writers. But words matter - not just the words you choose, but also how you organize them - and they can make a huge difference to the usability of your site. In this talk, we're going to explore some tips and tricks that can help you write useful, usable, accessible content.
Ann Mayer
Ann Mayer is a Senior Content Strategist at Reason One, a B-Corp digital agency that focuses on "helping those who do good do better". Ann has more than 20 years of experience in the digital world, specializing in content planning, creation, and governance. She brings together expertise in accessible web design, user experience, information architecture, analytics & SEO, plain language and editorial best practices.
Stakeholders agrees that accessibility is important but that does not mean they will invest in accessibility
Just because product leadership agrees with accessibility does not mean they will fund accessibility. In this talk I will share techniques on how to shift product investment for accessibility from best intentions to investment into roadmaps and features. I will share how to utilize marketshare and other product management influencing measures to getting accessibility built. Also, touch on teaching companies that the people who use their product should reflect those that build their product. Having PwDs in the org makes the need of accessibility more personal.
David Dame
Dave is a seasoned technology executive who is passionate about designing and developing hardware and software for users of all abilities. He has extensive experience in design thinking, product management, and agile delivery. Dave is a champion for accessibility and builds high-performing teams fostering cognitive.
Why We Suck at Hiring Accessible Designers & How To Fix It
As the field of accessibility continues to grow, so does the need for Accessible Designers. The talent is out there, but the way we are trying to hire them isn't cutting it. Between bloated job descriptions, confusion on what skills a good candidate should have, & the pressure for 'unicorn designers', we have some serious room for growth. In this talk, Shell Little will discuss her best practices from 6+ years of hiring Accessible Designers. She will discuss the dos & don'ts of writing the job description, what to look for in candidates, & explain her curated interview questions. In addition, for the first time, Shell will be sharing her infamous technical interview tool lovingly known as her 'Cursed Wireframes' & discuss how you can build your very own. Together we can get talent into the right roles so we can continue to unf*ck the internet.
Shell Little
Shell Little (She/Her) is an Independent Accessibility Specialist, Inclusive Designer, and Cognitive Disability Speaker. She is currently in Burnout Recovery but continues to focus her time on speaking & writing. She has a BA in UX, with a focus in Accessibility, and is passionate about disability rights and game accessibility. Outside the office, Shell is a cat parent, hobbyist streamer, and overall Neurodivergent dork.
Don't panic! A practical guide to accessibility
You don't have to have "accessibility" in your job title to become a driving accessibility force in your team! It often comes down to persistence, awareness, and the determination to inspire others for this important topic. We're gonna talk about the steps and initiatives you can take to raise importance of this topic, and to eventually make accessibility happen in your team and project, without having to be an all-knowing expert from the start.
Michaela Peterhansl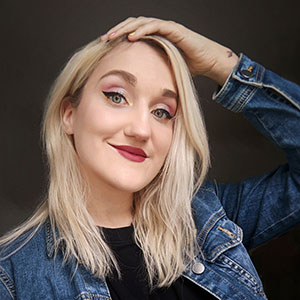 Michaela Peterhansl (Ella) is a UX designer at Ubisoft. Ella has a background in Computer Science and an MSc in Human-Computer Interaction. Her first touchpoints with accessibility were in the gaming community.
Accessibility changed Ella's perspective on my approach to UX design. Listening to and learning from people about their experiences is one of her favourite things.
Ella is CPACC certified, actively driving accessibility efforts and always excited to extend her knowledge to enable EVERYone to play games.
Datepickers & Dialogs
A wizard, a druid, and a bard walk into a cave, and must confront the dreaded beast within: a mutant datepicker. As product requirements hurl through the air, the three battle the low-contrast designs of the mounstrous UI component. Will they succeed in crafting something even vaguely accessible? That will depend on how well the audience rolls their dice...
No matter what the end result is, we'll examine how the choices made along the way impacted the accessibility of the final product. Hopefully everyone will walk out better equipped for future battles against even stronger component monsters.
Sarah Higley
Sarah Higley is a web developer who works on accessibility on a component framework at Microsoft. She has been convincing people to give her money in exchange for code since 2011 and is happiest when working on weird web components. She spends her free time making pottery or hanging out with her dog.
Intentionally Inclusive Product Workflows
A look at multi-disciplinary teams and their roles and responsibilities to build products that can scale for accessibility, usability and representation in product equity. We will explore holistic approaches to accessibility and inclusive design in practice, process and policy.
This toolkit will help you and your teams bake in accessibility and inclusive design testing processes, evaluation methods and ways of working in your product plans and focuses on developing relationships with the communities we serve.
Julianna Rowsell
Julianna (she/her, they/them) is a senior product manager within the product equity team at Adobe. Prior to heading into the private sector they founded and led accessibility and inclusive design communities of practices within the Government of Canada for more than a decade with a focus on corporate governance, evaluation, and playbook development. They also served as a digital fellow with the Canada School of Public Service. Julianna has led the development of key integrated metrics to evaluate products and product teams across a wide variety of digital products and services. Their work explores the intersection of identity, disability, and Indigenous perspectives, and the dismantling of systemic and emerging barriers to access.
How COVID-19 Impacted Accessibility - Industry Lessons and Takeaways
This presentation will explore digital accessibility and its impact from the 2019 COVID beginning through present day. We'll discuss some real experiences of people with disabilities, the reaction of companies to the growing accessibility needs, government interest and intervention, and how you can ensure that your company is ready to both sustain accessibility gains and be ready for the next digital event.
Greg Williams
Greg Williams is the Vice President & Chief Program Architect at Deque Systems, Inc. He oversees program development and operations for some of Deque's largest customers, helping them to build mature, sustainable accessibility programs.
Prior to joining Deque, Greg spent more than 30 years in the information technology field focusing on large, complex program operations for Fortune 40 companies, and before that served in the United States Navy for a number of years. He had great success as the founder and owner of the Digital Accessibility Program Office for State Farm Insurance, building their practice from the ground up into one of the highest maturity level programs in the world between 2013 and 2018.
Greg has always been passionate about diversity and inclusion and has extended this passion to the disability and accessibility community - joining Deque Systems in 2018 to help launch and mature similarly successful programs across the globe.