Workshops
Looking to add a little extra learning to your week? You're in luck! Join us on October 18, 2023 for a full day of workshops.
Morning workshops: 9:00 a.m. to 12:00 p.m.
Afternoon workshops: 1:00 to 4:00 p.m.
Please note that these are in person and individually ticketed events. Conference attendance is not required.
Introduction to native mobile app accessibility
Come advance your accessibility knowledge by learning about native mobile application (app) accessibility. We conduct hands-on exploration of both iOS and Android mobile operating systems. This half-day course with include how accessibility guidelines apply to mobile apps, testing techniques and recommendations to fix common accessibility issues. This is an intermediate course so it requires a base level of accessibility knowledge and a mobile device (iOS or Android) for participation.
Learning objectives:
Discuss the Assistive technology on iOS and Android;
Describe what WCAG guidelines apply to mobile apps and how to apply them;
Demonstrate the appropriate way to test mobile Apps for basic accessibility;
Discuss how to remediate basic mobile app accessibility issues.
Wednesday, October 18 - Afternoon and in Person.
Joe Humbert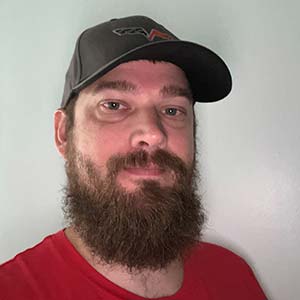 Joe is a native mobile accessibility specialist. He is passionate about and has a background in mobile accessibility, web accessibility, digital device accessibility and assistive technology. He has led over 1500 hours of in-person and remote accessibility training sessions.
Joe has spent almost 10 years in higher education. He is a Certified Professional in Web Accessibility and has a Master of Education in Special Education from Purdue University. Joe enjoys spending time with his family including two kids, two dogs and a cat.
Stem to Stern Accessibility
This workshop is a general overview workshop aimed at everyone involved in IT from executives to PMs, designers, developers, and QA. There is no code in this workshop. At the end of this workshop, you'll know all of the various places to consider accessibility and the best practices for doing so.
Depending on the audience, Accessibility is often treated as either a coding discussion or a compliance discussion, without considering the relationship between the two. Worse, it is almost never discussed as part of the larger discussion of quality. This results in projects that are inaccessible, expensive, and late.
The path to an inclusively-designed and compliant product is paved through the integration of accessibility at all phases of the development lifecycle.
Accessibility must begin and continue through management commitment, vision, and planning, through design and coding, to testing, documentation and delivery. In this workshop, we will explore ways for integrating accessibility into software development. Whether you work in a large or small organization, follow an agile or waterfall process, are experienced or just starting out, this workshop will guide you toward reliably developing accessible and usable products. Integrating accessibility relies on a diverse set of skills across the product-development spectrum, so this workshop is structured to be inclusive and engaging to all skill sets and levels. Your participation will be encouraged through group interaction and shared experiences as we explore the process of building not only an accessible software product, but a culture that sustains cost-effective, ongoing delivery of accessible products.
Learning Objectives:
Understand accessibility's place in project management
Learn about procuring ICT to ensure accessibility
Learn about accessible design and development concepts
Wednesday, October 18 - Morning and in Person.
Karl Groves
Karl Groves has worked with over 90 of the largest private companies, educational institutions, and federal agencies in the United States and he has trained several hundred developers, QA, design, and product staff at many of these clients. He has also spoken at conferences on accessibility in 15 countries over the last 5 years. His work has won awards ranging from the CUES Diamond Award to a product that was named as one of Time Magazine's Best Inventions of 2006. His work has been cited in a dozen books, white papers, and academic research in accessibility.